Bryan Donahue is a bassist, guitarist, singer, songwriter, producer and guitar builder. He is the ex bassist for Boys Like Girls, lead singer/guitarist for Early Morning Blues, ex bassist for TEAM* and has been the auxiliary guitarist/backing vocalist for All Time Low for over 7 years.
After the departure of assistant tour manager/aux. guitarist & backing vocalist Matt Colussy in February 2013, lead singer Alex Gaskarth announced on Twitter that Bryan Donahue (ex- Boys Like Girls) would be taking Colussy's place on stage during the Spring Fever Tour 2013 with Pierce The Veil.
Bryan started out playing mostly guitar and a few backing vocal lines. After the departure of tour manager/backing vocalist Matt Flyzik in October 2013, Donahue also took over Flyzik's vocals.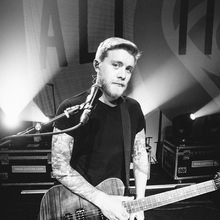 Donahue plays his own custom built guitars, called Venture Guitars.
In 2020 Donahue left the band and got replaced on stage by Dan Swank, Rian's studio assistant and the band's former assistant tour manager.
Community content is available under
CC-BY-SA
unless otherwise noted.