Bryan Donahue is a bassist, guitarist, singer, songwriter, producer and guitar builder. He is the ex bassist for Boys Like Girls, lead singer/guitarist for Early Morning Blues, ex bassist for TEAM* and currently auxiliary guitarist/backing vocalist for All Time Low.
After the departure of assistant tour manager/aux. guitarist & backing vocalist Matt Colussy in February 2013, lead singer Alex Gaskarth announced on Twitter that Bryan Donahue (ex- Boys Like Girls) would be taking Colussy's place on stage during the Spring Fever Tour 2013 with Pierce The Veil.
Bryan started out playing mostly guitar and a few backing vocal lines. After the departure of tour manager/backing vocalist Matt Flyzik in October 2013, Donahue also took over Flyzik's vocals.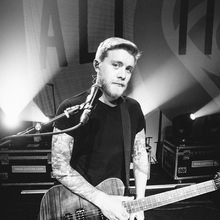 Donahue plays his own custom build guitars, called Venture Guitars.
Community content is available under
CC-BY-SA
unless otherwise noted.