Jack Bassam 'hot headed boy' Barakat was born on June 18, 1988 (age 30) in Lebanon to Joyce and Bassam Barakat.The family fled the civil war in Lebanon and moved to America and grew up there. Jack has a sister named May and a brother named Joe, who are both older than him.
He is the lead guitarist for the band All Time Low, which he and his best friend, Alex Gaskarth, founded in their first year of high school.
His favorite band is Blink 182; he and drummer Rian Dawson both have matching bunny tattoos. He also has a tattoo of Jack Skellington playing his guitar, as well as the All Time Low skull and crossbone tattoo on his shoulder, the entire band has one.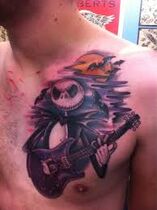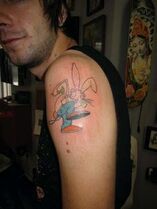 Jack loves the movie Home Alone, and has visited the home of Kevin McCallister.
Jack used to host radio show Full Frontal every Monday with Alex Gaskarth.
=== ===
Personal Life
Jack Barakat was in a relationship with Holly Madison for a few months until they broke it off on a mutual agreement. Jack was featured on an episode of Holly's show (https://youtu.be/n30xGMMQFo8)..
He was rumored to have dated Abigail Breslin for a few months in 2014.
For a few months in 2017, Jack was in a relationship with Andie Miller, before breaking it off just a few days before Thanksgiving .
.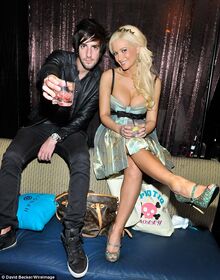 Quotes
"Do what makes you happy. Think later."
"Don't get stressed over the little things and make sure you're living life to the fullest."
"Sometimes you gotta look yourself in the mirror and say "You are the prettiest princess in all the land. I do it once a week."
"It's really hard to pick up chicks in this gay bar."
"I wanna be in love. It sounds cool."
"Life's too awesome to waste your time thinking about someone who doesn't treat you right."
"You don't always get the waterfall shortcut in Mario Kart. That's life."
"Hey Alex, don't let the door hit you in the vagina on your way out."
"I don't care how I met you, all that matters is that I did."
"Life is like candy land, there are many paths to take. Sometimes you run into Lord Liquorice, but you always end up at Candy Castle."
"Dick."
"I've had many Let's Goooooo experiences."
Links
Community content is available under
CC-BY-SA
unless otherwise noted.